This shop has been compensated by Collective Bias, Inc. and its advertiser. All opinions are mine alone. #ProtectFromPetMess #SeasonalSolutions #CollectiveBias
Nutter Butter Oatmeal Bites are an easy, healthy snack for pets and pet owners. These plant-based treats are full of protein, iron, fiber, and B vitamins, and they're free of oil, gluten, and artificial ingredients.
It's the best time of the year… it's fall! And that means more time to enjoy cooler temps outside, warm and cozy eats, and a holiday season that will fly by even faster than the last.
Halloween is also coming up soon and that means ghouls, goblins, and all things fun and spooky. But, it also means that our homes can be a dangerous little playground for our pets, primarily cats and dogs who love getting their sweet little paws on candies and treats of all kinds that may hurt them.
Halloween visitors and parties can also spook many pets, plus it gets dark outside much earlier and more rapidly during the fall season. All of this means there are some important things to keep in mind so that you and your pets can have the best fall season possible.
So today I'm sharing 5 simple pet tips for fall with all of you plus my pet-friendly recipe for Nutter Butter Oatmeal Bites! Nutter Butter Oatmeal Bites are tiny enough for pets to eat, pet-safe and pet-approved, and easy to keep on hand anytime!
As you can see, my kitty Charlie just loves these bites and my doggies helped him gobble them up quite quickly, although they were a bit camera shy. Not Charlie, though! 🙂
5 Not-To-Miss Pet Tips for Fall!
1. Keep pets away from fall food treats safe for humans that can hurt them and even be toxic.
Think Halloween chocolate candy, raisin recipes, artificial sweeteners, candy, the natural sweetener xylitol, chemicals, moldy foods, and more.* Remember that Halloween candy wrappers and some types of food wrappings will cause choking for pets. 
Children may also try to feed pets Halloween candy since they do not know better, so keep an eye on them and monitor pets when children are around. It's also smart to inform children that pets can't have all human treats. See my Nutter Butter Oatmeal Bites below for a pet-friendly option instead!
2. Keep the right clean-up products on hand for accidents, such as STAINMASTER® Carpet Pet Stain Remover.
Okay, it's time to get real with you guys. Our pets become very nervous and anxious when trick-or-treaters stop by for Halloween, which means they tend to have a couple of accidents in the house. We don't spank or hit our pets as it encourages fear and anxiety in them even more. We find that rewarding them when they potty outside is much more effective, but sometimes, accidents just happen. 
Plus, more time indoors during the evenings during fall means less potty time outside during the day, despite the fact we put them out regularly for bathroom breaks. We always have a bottle of STAINMASTER®™ Carpet Pet Stain Remover on hand to handle accidents of all kinds. This product not only cleans and protects, but it also prevents future stains even after accidents occur.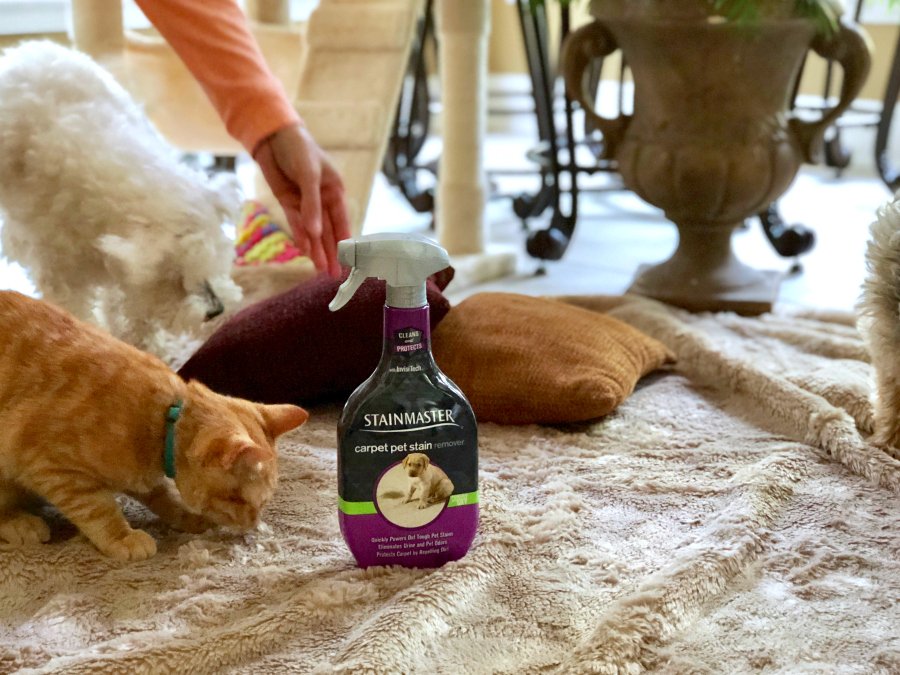 Hover over the image above to and click to shop STAINMASTER® at Target.com to give it a try!
STAINMASTER®™Carpet Pet Stain Remover lifts away tough pet stains and eliminates odors, plus it quickly cleans on contact, leaves no sticky residue, and will not re-soil your carpet.  We love that it gets rid of all odors–including the worst of all kinds of pet odors, along with most all other types of odors. STAINMASTER® can be used on much more than pet clean-ups such as coffee spills, jam and jelly stains, chocolate and cocoa powder stains (that would be my fault), other types of bathroom messes, and much more. 
You can also find STAINMASTER® on the cleaning aisle at Target to shop in-store. It's easy to find and spot, plus my bottle even came with a coupon!
3. Help keep your pets calm and safe during all the Halloween excitement.
When noise and neighbors are coming by the house and those kiddies come callin' for that candy, pets can get scared. It's important to pay attention to your pet's fears because they may run off and not mean to. Pets can also hide away for hours and become dehydrated and sick because they're too scared to come out in the open. My dog Millie does this all the time, so I now know that she needs constant care when excitement happens in the house.
As you can see, my mom and I dressed up as witches together for Halloween two years ago, and our dogs were terrified of us because they didn't recognize us. We had to coax them for hours just to come out of hiding and ensure they felt safe and okay.
Also, be kind to your pets and don't leave them alone outside. Pet theft, pet cruelty, and Halloween pranks that turn bad can mean bad news for you and your pet friends. Keep pets indoors where they are more likely to be safe and sound and monitor them if they appear spooked in any way.  If your dogs have anxiety and tend to bark and get loud, you can contact your vet to discuss pet-safe herbal remedies that may help with anxiety. Please see your vet for more tips on this.
4. Bring pets indoors a little earlier each day since it gets dark outside earlier.
Fall also means less time outdoors for us and our pets due to shorter daylight hours. Less time outdoors also means that if you leave your pets outside during the dark, there is more of a chance they can get lost, get into a harmful situation, and even get taken from your yard without you noticing since pet theft is sadly a real thing these days.
Leaving pets outdoors alone in the dark is also not nice and can leave them feeling abandoned, alone, and scared. So bring those sweet pets inside or put them in a safe area indoors where they can keep warm, safe, and sound. 
5. Make them safe-to-eat and pet-proof fall treats!
Cats and dogs tend to eat different types of food, but there are many types of homemade treats you can make at home for your pets that will satisfy both your feline and canine buddies while you enjoy your fall treats that may not be safe for pets. You can bake treats for your pets, cook for them, and come up with all kinds of creations made with pet-friendly ingredients such as veggies, some fruits, protein sources, healthy sources of fiber, and healthy fats. See my pet-friendly Nutter Butter Oatmeal Bites for a healthy DIY pet treat!
Nutter Butter Oatmeal Bites - Vegan, Oil and Gluten-Free
These healthy little bites are pet-safe and pet-approved! Full of heart-healthy ingredients that provide pets with fiber, healthy fats, and plant protein, Nutter Butter Oatmeal Bites are a winner that even pet owners will enjoy! Makes 6 mini bites
Ingredients
1 cup of gluten-free quick rolled oats
2 heaping tbsp. natural peanut butter (no salt or sugar added)*
½ cup unsweetened applesauce
2 tbsp. mashed banana or pumpkin purée
¼ tsp. gluten-free baking powder
Instructions
Preheat the oven to 350 degrees and spray a mini muffin tin with non-stick spray (I use an organic one). Set the pan aside. Don't have a mini muffin pan? See the notes section for an alternative.**
Add all of the ingredients listed above into a bowl and stir until combined. It will be very thick, but that's okay. Keep stirring the mixture until you have a thick dough that comes together. Do not add any liquid.
Scoop 1 heaping tbsp. of the dough and roll into a ball with your hands. Put the ball into one of the mini muffin cups and fill it to the top. Repeat with the rest of the dough.
Bake for 20-25 minutes at 350 degrees, or until a fork comes out clean.
Let these bites cool down at least 10-15 minute before giving them to pets. Enjoy these treats at room temp and well-sealed within one day or keep in the fridge up to 3 days.
Notes
*If your pets (or you) have an allergy to peanuts, simply use sunflower seed butter instead (Sunbutter) which is also tree-nut free.
**Don't have a mini muffin pan? That's okay. You can make these bites into mini cookies instead. Simply line a cookie sheet pan with parchment paper, mix the dough as directed, and follow the directions except instead of putting the ball of dough into a muffin cup, flatten it out on the cookie sheet and bake as directed.
Please check with your trusted vet to make sure your pet doesn't have allergies before making any at-home treats.
PIN FOR LATER!
A Few More Tips…
Don't forget to make sure your pets get their regular check-ups at the vet and to feed them high-quality food so that you can take them as much as possible this fall. Also, check out more ways to use STAINMASTER® here and click on Pawfect Pet Solutions for plenty more ideas. 
Have a safe and healthy fall with your pet friends! 🙂
*See the Humane Society's List of Toxic Ingredients to Pets for more information on foods to avoid giving to pets.