This post has been compensated by Collective Bias, Inc. and Conagra Brands. All opinions are mine alone. #ServeUpSummer #CollectiveBias
Chipotle Oven Fries with Quick 'n Easy Salsa is the perfect healthy appetizer for any casual celebration or get-together! This recipe is perfect for cookouts, barbecues, and it's even vegan and oil-free. Serve the fries on a large platter with the salsa, in individual dipping cups, or however else you like. Guilt-free dipping just got easier!
Summertime always reminds me of three things:  a little more relaxing, outdoor get-togethers and cookouts, and simple, delicious food. Okay, I'll admit, it also reminds me of way-too-extreme hot weather since I live in the south, but let's focus on the positive things here, shall we? 🙂
Outdoor get-togethers and cookouts were a huge part of my life as a child during summertime where I grew up in the south, and I appreciate that they're still one of the American classic events that seem to withstand changing trends in society. (Even plant-based (vegan) cookouts are popular now!)
Cookouts and summer parties were also something that my family let my brother and me be a part of when we were children. We never had much money when I was growing up, but my parents always knew how to host a great get-together and how to make simple food enjoyable. That's the essence of outdoor summer celebrations if you ask me!
So in light of the season, I thought I'd create a fun recipe for some of you that might be looking for a healthier option to make at one of your own summer get-togethers whether you're hosting a cookout or not.
Enter my Chipotle Oven Fries with Quick 'n' Easy Salsa! These two individual recipes are made with simple ingredients that everyone will love and that are affordable too. I personally love these two recipes for summer because they give a small twist on classic summer cookout recipes that please any crowd, and they require very little time in the kitchen to prepare. Yes, please, and thank you!
Quick 'n' Easy Salsa – The Perfect Condiment for Any Celebration!
Salsa is a fun and easy condiment that you can make for a variety of parties and celebrations. I mean, what's not to love about salsa? But have you ever had bad salsa where something just didn't taste right? That's no good! So when I want to make salsa that I know will deliver great results every single time, I use a couple of my favorite store-bought ingredients and some fresh produce to keep things simple and seamless.
For my Quick 'n' Easy Salsa, I like to use Hunt's® Tomatoes and RO*TEL® as the two main products that make up the base of the salsa. Then, I just add in a few other ingredients and have a delicious salsa in minutes. No chopping up tomatoes, peppers, or trying to figure out the right level of spice. Hunt's® Tomatoes and RO*TEL® take care of those two elements of the salsa without a bit of worry!
I grew up eating Hunt's Tomatoes, and my family has always loved RO*TEL. In case you've never used RO*TEL, it's a delicious blend of diced tomatoes and green peppers plus some spices that really adds an incredible flavor to recipes such as veggie burgers or veggie tacos, dips, salsa, veggie chili, and more. It's a great shortcut ingredient that allows you to save time and hassle without sacrificing quality or flavor. I used Mild RO*TEL in my salsa recipe, but there are other varieties of heat levels made by RO*TEL depending on how spicy you want yours to be. 
What I especially love as a nutritionist is that these products are both non-GMO Project Verified, come in BPA-free can liners, and ALWAYS deliver excellent quality to any recipe I use them in. They're also great to use in a variety of American classic summer recipes, too.
Chipotle Oven Fries  – The Perfect Appetizer!
My Chipotle Oven Fries are also incredibly easy and make for a fantastic homemade fry! Zero oil or frying is involved, so it's much better for you and your guests. I simply chop up a bunch of regular potatoes or sweet potatoes, sprinkle them with some salt-free chipotle seasoning (chili powder also works), some Italian herbs, then bake the fries and serve them with the salsa. If you're serving this appetizer at a small party, everyone can simply scoop a little salsa onto their plate and grab some fries to go along with them. Or, if you're having a really large party, you can serve the salsa in mini dipping cups that everyone can put on a plate with some fries to enjoy. 
This recipe makes a great appetizer without any added sugar, but you could also serve it as part of the main course if you like. I suggest a hearty black bean burger, lentil burger, or even pre-made veggie patties if you're not up for making your own veggie burgers. Or, serve a variety of plant-based appetizers that everyone can enjoy instead of serving a heavy meal.
If you're just having a few friends over, my Chipotle Oven Fries with Quick 'n' Easy Salsa is a great option that anyone can make; kids can even help! I love making this recipe for my family because it's one of the easiest recipes to make that pleases everyone and requires very little time in the kitchen. Those are my favorite kind of recipes, what about you? 🙂
Chipotle Oven Fries with Quick and Easy Salsa
Prep time:
Cook time:
Total time:
Chipotle Oven Fries with Quick 'n' Easy Salsa is one of the simplest, tastiest appetizers you'll ever make! Using a few high-quality store-bought ingredients and fresh produce, this appetizer comes together in minutes and is also vegan and oil-free! This recipe makes 2 large pans of fries and 4 cups of salsa. It will easily serve 6-8 people for an appetizer and can be doubled or tripled for large parties.
Ingredients
3 large potatoes, washed (Russet or Sweet Potatoes work great here; I used organic)
Chipotle seasoning (salt-free) or you can use chili powder instead
Italian Herb seasoning (salt-free)
2 cans of RO*TEL (I used the Mild variety)
2 (15) ounce cans of Hunt's Diced Tomatoes (I used the petite, no-salt-added variety)
2 limes
1 small onion (I used yellow)
⅛ tsp. garlic powder (not garlic salt)
2 tbsp. dried cilantro (or you can use ¼ cup freshly diced cilantro)
Instructions
To prepare the potatoes, preheat the oven to 400 degrees, Fahrenheit.
While the oven is heating, chop up the potatoes into fry shapes. I washed my potatoes, cut the ends off each one, left the peels on (it adds nutrition and great flavor), and then cut each potato in half lengthwise. Then I cut each half into small pieces to make fry shapes. The potatoes don't all have to be exactly the same size but should be close.
Place the fries onto two baking sheets (pans) lined with parchment paper and sprinkle the seasonings on the fries (just use a generous sprinkle across all of them).
Bake at 400 degrees for 1 hour. It's okay if you need to place the pans on separate racks in the oven. Just make sure your top oven rack is in the middle of the oven and the lower rack is right under it (not on the bottom of the oven).
When the potatoes finish cooking after one hour, the outsides of the potatoes should appear crispy but not burnt.Remove the potatoes from the oven, set the pan aside to cool, and make the salsa.
To make the salsa, chop and dice the onion into small bits, then add them to a bowl with the cans of tomatoes, the RO*TEL, the garlic powder, and the cilantro. Add the juice of the limes and discard the peels. Stir everything together and mix well until combined.
Serve the salsa with the fries right away, or leave the fries out at room temp (or in a storage container) and reheat before serving. If you make the salsa ahead, keep it in the fridge until ready to serve.
Notes
Serving Tips: Reheating and Storing
If you need to reheat the fries for any reason, I suggest just preheating the oven to 200 degrees and when it gets hot, put in the fries for 10 minutes just to warm them up without baking them again. They taste best when served hot and the salsa is best when served freshly made. If you make the salsa ahead and keep it in the fridge before serving, let it come to room temp for about 10 minutes before serving it to guests.

Salt Tips:
I prefer to eat foods lower in sodium, so my potatoes don't call for any salt to be added to them. Adding salt to the potatoes can also overwhelm the flavor of this entire recipe since the RO*TEL naturally has salt. You don't want overly salty salsa or potato fries since it can be a bit much. That's also why I used no-salt-added Hunt's tomatoes, but you could use regular canned tomatoes by Hunt's if you wish. The flavor of this recipe is great with the seasonings called for alone, but if you decide to make the fries by themselves without the salsa, you can sprinkle on some unprocessed sea salt before baking them if you wish.
Shopping Tips:
You can find the products I used for this recipe, Hunt's canned tomatoes and RO*TEL, at your local Walmart on the aisle with the canned tomato products and pasta sauce. They're easy to find and are also a great price too! While you're at it, pick up the rest of the ingredients for this recipe at your local Walmart, or even shop online via the second shoppable image below.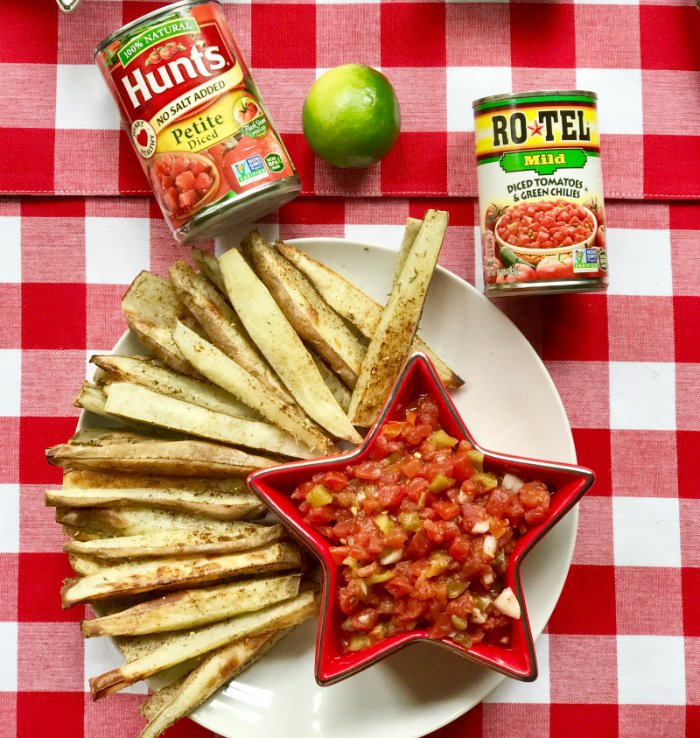 Click on the products in the photo above to shop online for them at Walmart!
PIN IT! 
For more summertime recipe inspiration and ways to use Hunt's® tomatoes and RO*TEL® in a variety of ways, check out these other ideas!
What's your favorite appetizer to bring to summer parties and/or cookouts?

*This post is a sponsored post with a brand/brands that I use in my own home. As always, I only use and share products that I trust, use, and love myself. Thank you for letting me share my personal recipes with you and for being a part of The Soulful Spoon!